Prognostic nomograms for predicting overall survival and cancer-specific survival of patients with very early onset colorectal cancer: a population‑based analysis
Keywords:
Very early onset colorectal cancer, prognostic nomogram, overall survival, cancer-specific survival, SEER
Abstract
In contrast to the declining incidence in older populations, the incidence of very early onset colorectal cancer (VEO-CRC) patients (aged ≤40 years) has been increasing in different regions of the world. In this study, we aimed to establish nomogram models for the prognostic prediction of patients with VEO-CRC for both overall survival (OS) and cancer-specific survival (CSS). Patients diagnosed with VEO-CRC between 2010 and 2015 from the Surveillance, Epidemiology, and End Results (SEER) database were collected and randomly assigned to the training cohort and validation cohort at a ratio of 7:3 for model construction and internal validation. Using univariate and multivariate Cox regression analysis to screen important variables, which were then used to construct a nomogram. The nomogram was evaluated using calibration curves and the receiver operating characteristic (ROC) curves. A total of 3061 patients were included and randomly divided into the training cohort (n = 2145) and validation cohort (n = 916). Five independent prognostic factors, including race, grade, tumor size, AJCC stage, and AJCC T stage were all significantly identified in OS multivariate Cox regression analysis. Meanwhile in CSS, multivariate Cox regression analysis demonstrated that race, grade, tumor size, AJCC stage, AJCC T stage, AJCC N stage, and SEER stage were independent prognostic factors.  The calibration plots of the established nomograms indicated high correlations between the predicted and observed results. C-index and ROC analysis implied that our nomogram model has a strong predictive ability. Moreover, nomograms also showed higher C-index values compared to tumor-node-metastasis (TNM) and SEER stages. We established and validated a simple-to-use nomogram to evaluate the 1-, 3-, and 5-year OS and CSS prognosis of patients with VEO-CRC. This tool can assist clinicians to optimize individualized treatment plans.
Downloads
Download data is not yet available.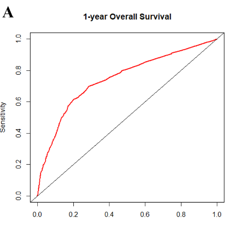 Downloads
How to Cite
1.
Dong B, Chen Y, Lyu G. Prognostic nomograms for predicting overall survival and cancer-specific survival of patients with very early onset colorectal cancer: a population‑based analysis. Bosn J of Basic Med Sci [Internet]. 2022Mar.27 [cited 2022Jul.5];. Available from: https://bjbms.org/ojs/index.php/bjbms/article/view/7035
Section
Translational and Clinical Research