Protocatechuic acid as an inhibitor of the JNK/CXCL1/CXCR2 pathway relieves neuropathic pain in CCI rats
Keywords:
Protocatechuic acid, chronic neuropathic pain, TNF-α, JNK/CXCL1/CXCR2 signaling pathway
Abstract
Emerging evidence has shown that protocatechuic acid (PCA) has antioxidant and anti-inflammatory effects. It can alleviate the injury of sciatic nerve, while the mechanism of its therapeutic effect on neuralgia remains unknown . In vivo, chromium bowel ligation was used to establish a chronic constriction injury (CCI) rat model to induce sciatic nerve pain, then two doses of PCA were used to treat CCI rats. In vitro, 10 ng/mL TNF-α was used to stimulate glial satellite cells derived from the dorsal root ganglia (DRG) L4-L6 of the sciatic nerve to simulate sciatic nerve pain. PCA relieved mechanical allodynia and thermal hyperalgesia in CCI rats. CCK-8 assay revealed that PCA inhibited the proliferation of glial satellite cells induced by TNF-α. Moreover, ELISA demonstrated that PCA could improve the inflammatory response of rats caused by CCI and cells induced by TNF-α. Next, RT-qPCR and Western blot assays testified that PCA blocked the c-Jun N-terminal kinase/the chemokine ligand 1/CXC chemokine receptor 2 (JNK/CXCL1/CXCR2) pathway by inhibiting CXCL1 levels in cells induced by TNF-α and DRG of CCI rats. In conclusion, PCA can alleviate neuropathic pain of CCI rats, improve oxidative stress by inhibiting the JNK/CXCL1/CXCR2 signaling pathway, which provides a new perspective for the treatment of neuropathic pain caused by CCI.
Downloads
Download data is not yet available.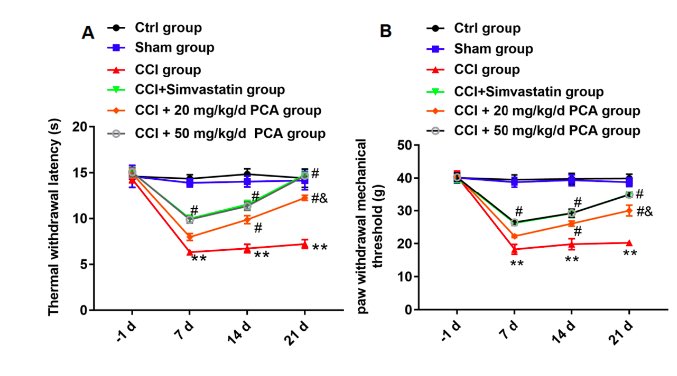 Downloads
Additional Files
How to Cite
1.
Chang H- xia, Zhao Y- feng. Protocatechuic acid as an inhibitor of the JNK/CXCL1/CXCR2 pathway relieves neuropathic pain in CCI rats. Bosn J of Basic Med Sci [Internet]. 2022Apr.1 [cited 2022Jul.2];22(2):217-28. Available from: https://bjbms.org/ojs/index.php/bjbms/article/view/5928
Section
Molecular Biology