2020 consensus guideline for optimal approach to the diagnosis and treatment of HER2-positive breast cancer in Bosnia and Herzegovina
Semir Bešlija

Clinical Center University of Sarajevo, Sarajevo, Bosnia and Herzegovina

https://orcid.org/0000-0002-3066-3871

Zdenka Gojković

University Clinical Center of the Republic of Srpska, Banja Luka, Bosnia and Herzegovina

Timur Cerić

Clinical Center University of Sarajevo, Sarajevo, Bosnia and Herzegovina

https://orcid.org/0000-0001-5478-8057

Alma Mekić Abazović

Cantonal Hospital Zenica, Zenica, Bosnia and Herzegovina

Inga Marijanović

University Clinical Hospital Mostar, Mostar, Bosnia and Herzegovina

Semir Vranić

Clinical Center University of Sarajevo, Sarajevo, Bosnia and Herzegovina; Current affiliation: College of Medicine, QU Health, Qatar University, Doha, Qatar

https://orcid.org/0000-0001-9743-7265

Jasminka Mustedanagić–Mujanović

University Clinical Center Tuzla, Tuzla, Bosnia and Herzegovina

Faruk Skenderi

Clinical Center University of Sarajevo, Sarajevo, Bosnia and Herzegovina

https://orcid.org/0000-0002-2200-354X

Ivanka Rakita

University Clinical Center of the Republic of Srpska, Banja Luka, Bosnia and Herzegovina

Aleksandar Guzijan

University Clinical Center of the Republic of Srpska, Banja Luka, Bosnia and Herzegovina

Dijana Koprić

University Clinical Center Tuzla, Tuzla, Bosnia and Herzegovina

Alen Humačkić

Cantonal Hospital "Dr Safet Mujić", Mostar, Bosnia and Herzegovina

Danijela Trokić

Radiotherapy Center, International Medical Centers, Banja Luka, Bosnia and Herzegovina

Jasmina Alidžanović

University Clinical Center Tuzla, Tuzla, Bosnia and Herzegovina

Alma Efendić

Cantonal Hospital Zenica, Zenica, Bosnia and Herzegovina

Ibrahim Šišić

Cantonal Hospital Zenica, Zenica, Bosnia and Herzegovina

Harun Drljević

Cantonal Hospital Zenica, Zenica, Bosnia and Herzegovina

Vanesa Bešlagić

Clinical Center University of Sarajevo, Sarajevo, Bosnia and Herzegovina

Božana Babić

University Clinical Center of the Republic of Srpska, Banja Luka, Bosnia and Herzegovina

Azra Pašić

Cantonal Hospital Zenica, Zenica, Bosnia and Herzegovina

Anela Ramić

Cantonal Hospital Zenica, Zenica, Bosnia and Herzegovina

Dijana Mikić

University Clinical Center of the Republic of Srpska, Banja Luka, Bosnia and Herzegovina

Zlatko Guzin

Cantonal Hospital "Dr Safet Mujić", Mostar, Bosnia and Herzegovina

Dragana Karan

University Clinical Hospital Mostar, Mostar, Bosnia and Herzegovina

Teo Buhovac

University Clinical Hospital Mostar, Mostar, Bosnia and Herzegovina

Dragana Miletić

University Clinical Hospital Mostar, Mostar, Bosnia and Herzegovina

Senad Šečić

Clinical Center University of Sarajevo, Sarajevo, Bosnia and Herzegovina

Azra Đozić Šahmić

Clinical Center University of Sarajevo, Sarajevo, Bosnia and Herzegovina

Lejla Mujbegović

Cantonal Hospital Zenica, Zenica, Bosnia and Herzegovina

Alisa Kubura

Cantonal Hospital Zenica, Zenica, Bosnia and Herzegovina

Mensura Burina

University Clinical Center Tuzla, Tuzla, Bosnia and Herzegovina

Nenad Lalović

University Hospital Foča, Foča, Bosnia and Herzegovina

Nikolina Dukić

University Hospital Foča, Foča, Bosnia and Herzegovina

Jelena Vladičić Mašić

University Hospital Foča, Foča, Bosnia and Herzegovina

Mirjana Ćuk

University Hospital Foča, Foča, Bosnia and Herzegovina

Rajna Stanušić

University Hospital Foča, Foča, Bosnia and Herzegovina
Keywords:
Her2, breast cancer, guidelines, treatment
Abstract
The HERe2Cure project, which involved a group of breast cancer experts, members of multidisciplinary tumor boards from healthcare institutions in Bosnia and Herzegovina, was initiated with the aim of defining an optimal approach to the diagnosis and treatment of HER2 positive breast cancer. After individual multidisciplinary consensus meetings were held in all oncology centers in Bosnia and Herzegovina, a final consensus meeting was held in order to reconcile the final conclusions discussed in individual meetings. Guidelines were adopted by consensus, based on the presentations and suggestions of experts, which were first discussed in a panel discussion and then agreed electronically between all the authors mentioned. The conclusions of the panel discussion represent the consensus of experts in the field of breast cancer diagnosis and treatment in Bosnia and Herzegovina. The objectives of the guidelines include the standardization, harmonization and optimization of the procedures for the diagnosis, treatment and monitoring of patients with HER2-positive breast cancer, all of which should lead to an improvement in the quality of health care of mentioned patients. The initial treatment plan for patients with HER2-positive breast cancer must be made by a multidisciplinary tumor board comprised of at least: a medical oncologist, a pathologist, a radiologist, a surgeon, and a radiation oncologist/radiotherapist.
Downloads
Download data is not yet available.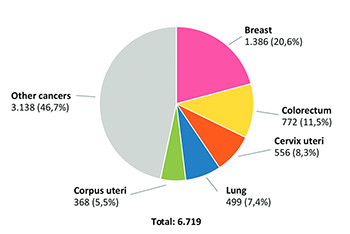 How to Cite
1.
Bešlija S, Gojković Z, Cerić T, Mekić Abazović A, Marijanović I, Vranić S, Mustedanagić–Mujanović J, Skenderi F, Rakita I, Guzijan A, Koprić D, Humačkić A, Trokić D, Alidžanović J, Efendić A, Šišić I, Drljević H, Bešlagić V, Babić B, Pašić A, Ramić A, Mikić D, Guzin Z, Karan D, Buhovac T, Miletić D, Šečić S, Đozić Šahmić A, Mujbegović L, Kubura A, Burina M, Lalović N, Dukić N, Vladičić Mašić J, Ćuk M, Stanušić R. 2020 consensus guideline for optimal approach to the diagnosis and treatment of HER2-positive breast cancer in Bosnia and Herzegovina. Bosn J of Basic Med Sci [Internet]. 2021Apr.1 [cited 2021Nov.28];21(2):120-35. Available from: https://bjbms.org/ojs/index.php/bjbms/article/view/4846
Copyright (c) 2020 Semir Bešlija, Zdenka Gojković, Timur Cerić, Alma Mekić Abazović, Inga Marijanović, Semir Vranić, Jasminka Mustedanagić–Mujanović; Faruk Skenderi; Ivanka Rakita, Aleksandar Guzijan, Dijana Koprić, Alen Humačkić, Danijela Trokić, Jasmina Alidžanović, Alma Efendić, Ibrahim Šišić, Harun Drljević, Vanesa Bešlagić, Božana Babić, Azra Pašić, Anela Ramić, Dijana Mikić, Zlatko Guzin, Dragana Karan, Teo Buhovac, Dragana Miletić, Senad Šečić, Azra Đozić Šahmić, Lejla Mujbegović, Alisa Kubura, Mensura Burina, Nenad Lalović, Nikolina Dukić, Jelena Vladičić Mašić, Mirjana Ćuk, Rajna Stanušić
This work is licensed under a Creative Commons Attribution 4.0 International License.