Long non-coding RNA PVT1 regulates the migration of hepatocellular carcinoma HepG2 cells via miR-3619-5p/MKL1 axis
Keywords:
PVT1, miR-3619-5p, MKL1, cell migration, hepatocellular carcinoma, HCC
Abstract
Hepatocellular carcinoma (HCC) is the third most common malignant tumor of the digestive system. Plasma cell tumor heterotopic gene 1 (PVT1) is an intergenic long non-coding RNA that is aberrantly expressed in different cancers. Myocardin-related transcription factor A or megakaryoblastic leukemia 1 (MKL1) is a transcriptional coactivator of serum response factor that has been shown to promote cancer cell migration and invasion. In this study, we investigated the relationship between PVT1 and MKL1 as a novel regulatory mechanism underlying HCC progression. We used HepG2 and Cos‑7 cell lines. Transfection experiments with miR-3619-5p mimics/inhibitor, PVT1, siRNA-PVT1, MKL1, or siRNA-MKL1 were performed. RNA and protein levels were analyzed by quantitative reverse transcription PCR and Western blot, respectively. Cell migration was assessed by transwell assay. Luciferase assays, RNA-FISH, RNA immunoprecipitation, and chromatin immunoprecipitation assays were performed to confirm the interaction between PVT1, miR-3619-5p, and MKL1 in HCC cells. Overexpression of PVT1 was positively correlated with MKL1 upregulation, which promoted HepG2 cell migration. miR-3619-5p inhibited MKL1 expression in HCC cells by acting on its 3′-UTR. Furthermore, PVT1 promoted MKL1 expression and migration in HCC cells by directly binding to miR-3619-5p. In a positive feedback loop, MKL1 could activate PVT1 transcription by binding to the CArG box in the promoter region. Our findings may provide a basis for the development of novel targeted therapies in HCC.
Downloads
Download data is not yet available.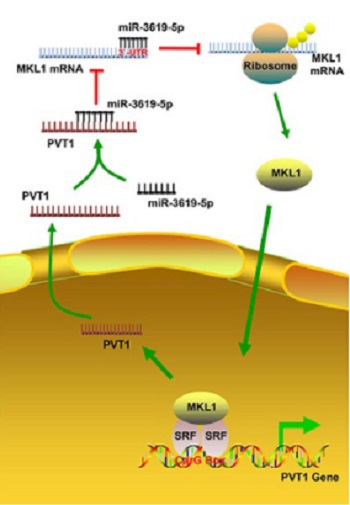 Downloads
Additional Files
How to Cite
1.
Liu H, Yin Y, Liu T, Gao Y, Ye Q, Yan J, Ha F. Long non-coding RNA PVT1 regulates the migration of hepatocellular carcinoma HepG2 cells via miR-3619-5p/MKL1 axis. Biomol Biomed [Internet]. 2021Apr.1 [cited 2023Feb.3];21(2):187-9. Available from: https://bjbms.org/ojs/index.php/bjbms/article/view/4641
Section
Molecular Biology