The natural adaptive evolution of cancer: The metastatic ability of cancer cells
Keywords:
Cancer, metastasis, macrophage–cancer fusion cells, cancer fusion cells, CFCs, hypothesis, review
Abstract
The ability of cancer to adapt renders it one of the most challenging pathologies of all time. It is the most dreaded pathological entity because of its capacity to metastasize to distant sites in the body, and 90% of all cancer-related deaths recorded to date are attributed to metastasis. Currently, three main theories have been proposed to explain the metastatic pathway of cancer: the epithelial–mesenchymal transition (EMT) and mesenchymal–epithelial transition (MET) hypothesis (1), the cancer stem cell hypothesis (2), and the macrophage–cancer cell fusion hybrid hypothesis (3). We propose a new hypothesis, i.e., under the effect of particular biochemical and/or physical stressors, cancer cells can undergo nuclear expulsion with subsequent macrophage engulfment and fusion, with the formation of cancer fusion cells (CFCs). The existence of CFCs, if confirmed, would represent a novel metastatic pathway and a shift in the extant dogma of cancer; consequently, new treatment targets would be available for this adaptive pathology.
Downloads
Download data is not yet available.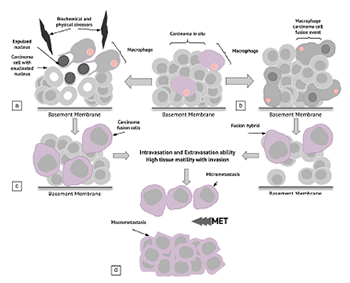 Downloads
Additional Files
How to Cite
1.
Olteanu G-E, Mihai I-M, Bojin F, Gavriliuc O, Paunescu V. The natural adaptive evolution of cancer: The metastatic ability of cancer cells. Biomol Biomed [Internet]. 2020Aug.3 [cited 2023Mar.29];20(3):303-9. Available from: https://bjbms.org/ojs/index.php/bjbms/article/view/4565