The effect of micro-sized titanium dioxide on WM-266-4 metastatic melanoma cell line
Keywords:
Titanium dioxide, UV filter, ABCB5 protein, melanoma
Abstract
Titanium dioxide (TiO2) is widely used as an inorganic UV-filter in cosmetic products; however, it has been classified as possibly carcinogenic to humans. While numerous studies demonstrated cytotoxic and genotoxic effects of nano-sized TiO2 in different cell lines, including human skin cells, studies investigating the effects of micro-TiO2 on human keratinocytes and melanocytes, in healthy and cancer cells, are scarce. Adenosine triphosphate (ATP) binding cassette subfamily B member 5 (ABCB5) is a plasma membrane protein known for its role in the tumorigenicity, progression, and recurrence of melanoma. Here, we investigated the effect of micro-TiO2 (average particle size ≤5 µm) on the metabolic activity, cytotoxicity and ABCB5 mRNA expression in metastatic melanoma cells. Metastatic melanoma cell line WM-266-4 was treated with different concentrations of micro-TiO2 for different incubation times to obtain dose- and time-dependent responses. Untreated WM-266-4 cells, cultured under the same conditions, were used as control. The cell metabolic activity was determined by MTT assay. Cytotoxicity of micro-TiO2 was analyzed by lactate dehydrogenase (LDH) cytotoxicity assay. The ABCB5 mRNA expression in melanoma cells was analyzed using quantitative reverse transcription polymerase chain reaction (RT-qPCR). After 120 hours of exposure to micro-TiO2 the metabolic activity of melanoma cells decreased, especially at the two highest micro-TiO2 concentrations. Comparably, the cytotoxicity of micro-TiO2 on melanoma cells increased after 48 and 120 hours of exposure, in a time-dependent manner. The ABCB5 mRNA expression in micro-TiO2-treated melanoma cells also decreased significantly after 24 and 48 hours, in a time-dependent manner. Overall, our results suggest inhibitory effects of micro-TiO2 on the metabolic activity and ABCB5 mRNA expression in metastatic melanoma cells, indicating its potential use as an anticancer agent.
Downloads
Download data is not yet available.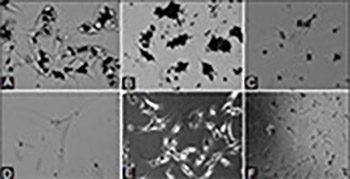 Downloads
Additional Files
How to Cite
1.
Prunk Zdravković T, Zdravković B, Lunder M, Ferk P. The effect of micro-sized titanium dioxide on WM-266-4 metastatic melanoma cell line. Biomol Biomed [Internet]. 2019Feb.12 [cited 2023Feb.3];19(1):60-6. Available from: https://bjbms.org/ojs/index.php/bjbms/article/view/3674