Human amniotic fluid stem cells (hAFSCs) expressing p21 and cyclin D1 genes retain excellent viability after freezing with (dimethyl sulfoxide) DMSO
Keywords:
Human amniotic fluid stem cells, hAFSCs, dimethyl sulfoxide, DMSO, cryopreservation, biopreservation, cell viability, p21, cyclin D1, Oct4 (POU5F1), NANOG, pluripotency
Abstract
Human amniotic fluid stem cells (hAFSCs) have features intermediate between embryonic and adult SCs, can differentiate into lineages of all three germ layers, and do not develop into tumors in vivo. Moreover, hAFSCs can be easily obtained in routine procedures and there is no ethical or legal limitations regarding their use for clinical and experimental applications. The aim of this study was to assess the effect of slow freezing/thawing and two different concentrations of DMSO (10% DMSO + 90% fetal bovine serum [FBS] and 5% DMSO + 95% FBS) on the survival of hAFSCs. hAFSCs were obtained from 5 pregnant women during amniocentesis at 16–22 weeks of gestation. The expression of pluripotency markers (Octamer-binding transcription factor 4 [Oct4] and NANOG) by reverse transcription polymerase chain reaction and cell surface markers (cluster of differentiation [CD31], CD44, CD45, and CD90) by flow cytometry was analyzed before and after the slow-freezing. Cell viability was assessed by trypan blue exclusion or MTT assay. Quantitative mRNA expression of Oct4, NANOG, cyclin D1 and p21 was determined by real-time PCR before and after the slow-freezing. Pluripotency of hAFSCs was confirmed by NANOG and POU5F1 (Oct4) gene expression before and after slow-freezing. All hAFSC cultures were positive for CD44 and CD90. A higher viability of hAFSCs was observed after freezing with 90% FBS + 10% DMSO. There was increased expression of NANOG and decreased expression of POU5F1 gene after freezing, compared to control cells (before freezing). DMSO and the process of freezing did not significantly change the expression of p21 and cyclin D1 genes in hAFSCs. Overall, our results indicate the applicability of slow-freezing and DMSO in cryopreservation of SCs.
Downloads
Download data is not yet available.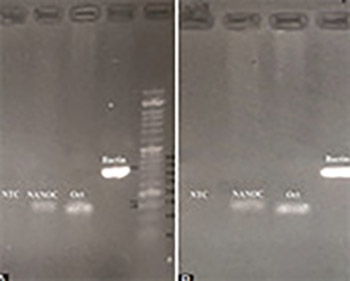 Downloads
Additional Files
How to Cite
1.
Gholizadeh-Ghaleh Aziz S, Fardyazar Z, Pashaei-Asl F, Rahmati-Yamchi M, Khodadadi K, Pashaiasl M. Human amniotic fluid stem cells (hAFSCs) expressing p21 and cyclin D1 genes retain excellent viability after freezing with (dimethyl sulfoxide) DMSO. Biomol Biomed [Internet]. 2019Feb.12 [cited 2023Feb.3];19(1):43-51. Available from: https://bjbms.org/ojs/index.php/bjbms/article/view/2912
Section
Molecular Biology